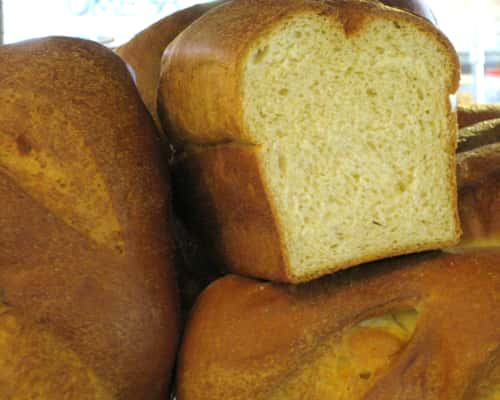 Breads
Breads
Baguette

Light as a feather with a crispy crust, our baguette is great for crostini, bruschetta, or sandwiches. Just keep in mind this (like all other long, skinny breads with no preservatives) is basically a one-day bread. Some patrons use this for making subs. Tuesday through Thursday we make half-sized baguettes, too.

Campagna
Another name for our Country French bread which is a white peasant bread made with just a touch of whole wheat. Campagna has a dense interior crumb and a thick, chewy crust. A favorite of many customers, lots of us like this for toasted sandwiches and Panini.

Challah
Winner of the "Best Challah, Professional" award in the2010 Columbus Chicken Souper Bowl Cook-Off at Congregation Beth Tikvah, Worthington, Ohio (our chicken soup was named "Best Traditional Chicken Soup") . Our challah is not too sweet, but a bit sweet, made with vegetable oil and eggs and offered plain, with poppy seeds or white sesame seeds; in both a loaf and small rolls (knots). Fridays only, but if you are lucky, you might find a day- old loaf available on Saturdays.

Ciabatta
Big, open holes distinguish the white interior of this bread. A crispy, chewy (thin) crust is traditional and makes this the ideal bread for toast, and Amy's favorite for French toast. Fabulous for dipping in olive oil, it is also great for sopping up sauces, and crostini.

Cinnamon Raisin Walnut
A dense bread studded with dark raisins and walnuts is made with eggs and buttermilk. A favorite with many it is excellent toasted, and some even use it for toasted sandwiches (think sliced turkey with a mild cheese). We only make this on Saturdays, but it is one of the few breads we sell day-old if we have any, though we rarely do.

House Bread
A white bread with a delicate crumb and thin, crisp crust, this bread is made with a starter which helps it keep longer than many others. It makes excellent sandwiches and toast, and if kept at room temperature in plastic, it keeps at least a week.
Flavored House
Using the House bread as a base, we add different ingredients from week to week in this bread. One of the most popular is the Everything Bread with toasted sesame and poppy seed, garlic, onion and salt both inside and outside of the loaves. We also make Jalapeno-Asiago (Amy's fave), Red Pepper Flake (an homage to Tapatio Bread Company which inhabited our place before we did), and just about anything that stikes our fancy. Recently we started making an Onion-Dill loaf when a customer suggested it, so if you have a bread you'd like to try, let us know! Saturdays and Sundays only.


Nine Grain
With a base of stone ground whole wheat, we add barley, corn, millet, oat, rye, triticale, brown rice, soya, flax seed and cracked wheat. Like our Whole Wheat Italian bread, we add no sugar or honey; you just taste the natural sweetness of the grains.

Rustic French
One of our signature breads and a cult classic, this bread has the hardest crust we offer. Though the interior is open and airy, the extremely dark crust gives it a flavor all its own. If you like it, this is the perfect bread to break off and eat with a creamy cheese (D'Affinois, or if you like blue, Saint Agur) and a glass of red wine. Amy's absolute all-time favorite bread, she uses it for cheese fondue as well. This is also the bread you will see sticking up out of Paul's backpack each morning as he rides home from work. Although we tell people that this is a one-day bread, many folks have ways to save and revive it (some even including the use of a microwave, usually an anathema to bread!).

Siciliano
Our Pane Siciliano or Sicilian bread is made with Durum wheat flour which accounts for the yellow color. Enriched with olive and soya oils and malt, this bread is very soft with a slightly chewy crust and a touch of salt. We make it in the traditional "S" shape, and while the bread itself is vegan, unless ordered specially, it has an egg wash on the crust giving it a shiny appearance (the egg also helps keep the sesame seeds on the top). One of our customers remembers her Sicilian grandmother serving this bread with a drizzle of honey as an afternoon treat. Chris's favorite for both its flavor and (what he considers) almost magical keeping powers. Saturdays only, but we do sell them day-old on Sunday if we have them.

Sourdough
Based on our decade-old Barm (or English starter), our sourdough is milder than the West coast variety. After the 'Great Barm disaster of 2004', we keep a bit of the starter in our freezer at all times, ready to restore in case of emergency. This is a one-pound boule with a crunchy crust, soft crumb and a mild sour taste. A favorite of Meghan's, she loves the chewy texture and says it is the perfect sourness.

Sweet Rustic
These small pillows of goodness are made with a touch of sugar, a few drops of oil (olive and soya) and studded with a combination of dried fruits, then dusted with powdered sugar for the perfect breakfast snack. Also, if you brush off the powdered sugar and cut them in half, they grill beautifully for a cheese Panini with just a dash of sweetness. Saturdays only.

White Italian
Our original best seller. Our white Italian is made with soya oil, malt and milk solids, making the interior dense but very soft, and the crust crispy. Many like it for its versatility, some say it is more 'kid-friendly' than many of our crustier breads, but Cynthia likes it for garlic bread. She says the bread soaks up the garlic but still keeps a crust. Based on a French recipe for Italian bread (distinguished by the addition of milk), this is a long, fat loaf perfect for slicing into sandwiches.

Whole Wheat Italian
The use of coarse stone-ground wheat and the lack of added sugar or honey distinguish our whole wheat bread. This bread is even more fragrant and flavorful when kept uncut overnight before eating. Wonderful with hard cheeses, our whole wheat makes great croutons or sandwiches. Alex insists it is at its best toasted with peanut butter.

Bern Brot
This is our only bread baked in traditional loaf pans. Originally from Bern, Switzerland, we started making this so Amy would have a bread perfect for Bacon, Lettuce and Tomato sandwiches in the summer. Enriched with milk, eggs and butter, this is a soft bread with a soft crust. Dennis loves this bread, and usually takes one home on Saturdays. This bread toasts well, and keeps for at least five days wrapped. Saturdays only, but if we have it, you can buy it day-old on Sunday.

Focaccia
Every day we're open, you can smell the garlic and rosemary topping of this bread as it comes out of the oven. The soft, olive oil infused bread can be eaten out of hand, or cut in two and used as a sandwich bread. Although many people insist it is too rich not to have butter or cheese in it, it is always vegan (like most of our bread), including no animal products of any kind. We sell this by weight so you can buy just a tiny bit to have with lunch, or a large slab to share with friends. More people have learned about our bakery from this bread than any other, and certain wonderful customers have brought and sent friends and coworkers in to try it weekly for years! Cut up in small squares at a party, we've never heard of any leftovers, but it also goes amazingly well with pasta or a salad.

Avanzucci
Italian for 'scraps', these are small rolls made of the dough leftover after shaping the loaves each morning. We slash the tops to look like the bread it is made from. They are wonderful as dinner rolls, or for sandwiches (especially the ciabatta!) and taste surprisingly different from the loaves.

Pan Turbante
Named (by us) for the turbans they resemble, these soft, small chewy breads are perfect for a snack or to go with a special meal. We make two flavors, one topped with a tapenade of Kalamata olives, garlic and olive oil, and a combination of hard cheeses, and another with roasted sweet onions, walnuts and blue cheese. Saturdays only.

Pretzel Rolls
On Fridays and Saturdays, around eleven o'clock, you can usually hear someone call out "We've got pretzel rolls", often followed by a rush to the counter of folks waiting for them to come out of the oven. We've been making ours since 2004 in the traditional way, no shortcuts (and no dairy or animal products). The recipe is ours, however, and they are soft and pretzelly with just a bit of chew, perfect for sandwiches or dipping. Even though we say they are a 'one day bread', Amy's sister saves any leftover rolls, slices them and toasts the slices in a toaster oven and they are wonderful with a little cream cheese or butter! Vince (one of our favorite customers) likes them so much that he has a standing order for ten every Friday!

Cheddar-Scallion Rolls
We are all in agreement that these are the very best hamburger buns EVER, and Amy believes that nothing we make smells better straight from the oven. If your burger is juicy (as it should be), these will hold together until (approximately) the second to the last bite, but they are soft, not hard. The bits of cheese and scallion throughout the buttery egg-rich buns provide just a hint of flavor, making them great with any filling (Bluescreek ham, Swiss cheese and tomato is a favorite with those of us working on Saturdays.) The size is for hamburgers or other sandwiches, but by special order, we can make them any size from two-bite to large enough for a ten pound hamburger (we did this for a tailgater)! These rolls keep very well in plastic. Saturdays only, except by special order.

Pepperoni Rolls
Although they originated in West Virginia as a self-contained lunch for miners to take underground, we have improved them to include provolone and Romano cheeses. We take an Italian dough originally used for semelle (small rolls that are a specialty of Florence, Italy), add a touch of garlic, then layer grated provolone, a flavorful, slightly spicy pepperoni and Romano, then roll them up, top with cheese and bake until they are golden brown and all the cheese is melted. They are great eaten warm or at room temperature, or sliced and toasted as a side dish with soup or salad. We make these every day, but if you want a large number, or just to make sure you get one, we suggest you call and ask us to hold them.

Spicy Vegetable Rolls
For all our vegetarian friends, or just for a change, we make a vegetable roll. Again we start with the semelle dough and a whiff of garlic, but layer it with our spicy dried tomato paste, pepper jack cheese, roasted red onions and portabella mushrooms and a slice of fresh red pepper. We roll them up with a bit of cheese on the top and a small piece of red pepper (mostly so we can tell them from the pepperoni rolls). These have more than a touch of spice, but are equally good warm or at room temperature. Available only by special order.